IngreCarbomer 380 - Carbomer
Carbomer
Item #: 1196
Best available price $9.58/kg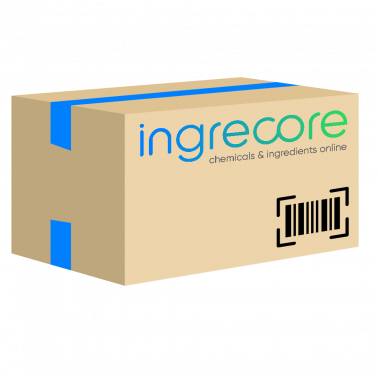 QTY in KG
FOB price per KG
Kilogram

20

$10.93

40

$10.75

60

$10.57

100

$10.39

200

$10.21

300

$10.03
Benefits IngreCarbomer 380 - Carbomer
Highly efficient, low dosage thickening and suspending agent
Great stabilizer
Superb flow properties
Provides high clarity
Temperature resistant viscosity effects
Packaging Description
Carton boxes of 20 KG. One full pallet is 20 boxes (400 KG). One 20ft container is 10 pallets (4 MT)
Leadtime
Available for shipment within 1 week
Product information IngreCarbomer 380 - Carbomer
Description
IngreCarbomer 380 is used in numerous Personal Care products, mainly in O/W emulsions like
skin/sun lotions
& creams,
body lotions
, shampoos and styling gels. It's polymerized in a cosolvent system, short flow and is a crosslinked polyacrylate polymer that acts as a highly efficient, low dosage suspending agent and
thickener
. If neutralized with an appropriate base, the molecular chain greatly expands, increasing the viscosity and forming a clear gel. IngreCarbomer 380 has a shelf life of 2 years after the date of manufacture. It's a low-density white powder which should be stored in a tightly closed container in a dry, cool, dark, and well-ventilated environment. Due to its low density it's a bulky product and only around 4MT can be packed in a 20 ft container. Typically, the recommended dose of IngreCarbomer 380 in a personal care product is about 0.2 – 1.0%.
Chemical Name
2-Propenoic acid, polymer with 2,2-bis(hydroxymethyl) propane-1,3-diol 2-propenyl ether
Region of Origin
Asia Pacific
Product Group Description
Carbomer is a generic name for poly acrylic acid, a crosslinked high molecular weight polyacrylate polymer, known for its properties to absorb and retain water and to greatly swell to many times their original volume. They are efficient rheological modifiers with outstanding thickening and suspending performances.

What is Carbomer used for? Important applications of carbomer polymers are as superabsorbent for example in disposable diapers. It's used in wound dressings and medical bandages and in homecare or industrial cleaning products and detergents where they play a role in dirt removal. In addition, it's used in applications as flame retardant gel and in pharmaceutical products as binding and suspending agents. The focus of IngreCore is on personal care and specifically on carbomer in skin care and carbomer in hair products. It's interesting to see in how many personal care products this functional ingredient is formulated, partly because its strong and specific properties and partly because it combines well with other ingredients and it's easy in use. Suitable for creams, lotions, gels, styling products, shampoos etc.
Carbomers have been around for decades in personal care products and in cosmetic ingredient review are seen as safe products, which are generally not associated with skin irritation or allergic reactions.
The carbomers used as ingredients in cosmetic products are fluffy white powders and have normally a shelf life of 2 years. Fluffy powders mean that the density of the product is low around 0.2 g/cm3 compared to water 1 g/cm3. Carbomers have the ability to produce transparent gels in water and ethanol and show good gel forming properties. In a dispersion when neutralized with an appropriate base, the particles swell greatly, and the viscosity significantly increases.

What is carbomer in skincare products, makeup products, body and hair care used for? The main functions of these specific components are:
1. stabilize and avoid separation in products as emulsifier to prevent oil and liquid parts from separating and as suspending agent to suspend insoluble solids in liquids.
2. as thickening agents to help control the viscosity and consistency of personal care products.
3. enhance texture by providing a creamy, silky texture to conditioners, body washes and other cosmetics products.
Markets, applications & functions IngreCarbomer 380 - Carbomer
Product Functions
Conditioning, Emulsifying, Moisturizing, Stabilizing, Thickening, Viscosity modifying
Similar or equivalent to
Carbomer 980; TC-Carbomer 380
Applications
Body Lotions, Body Washes, Hair Mousses, Hair Texturizers, Skin Moisturizers, Shampoos, Skin/Sun Creams, Skin/Sun Lotions, Sun Gels
SubMarket
Body Care, Hair Care, Skin Care
Product Hazard information
CLP-GHS pictograms

Transport Hazard Indication
Non Dangerous Goods
Transport Hazard Class
Not Applicable