IngreCore SCI 85-G - Sodium Cocoyl Isethionate
Sodium Cocoyl Isethionate
Item #: 2203
Best available price $6.41/kg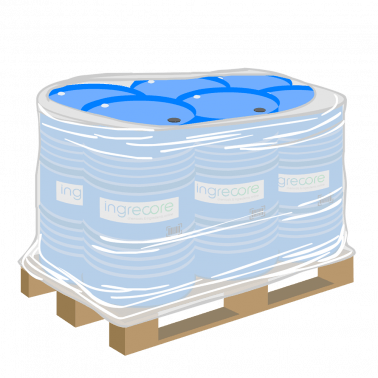 New Arrival
QTY in KG
FOB price per KG
Kilogram

450

$7.04

900

$6.94

2,250

$6.84

4,950

$6.67

5,400

$6.62

6,750

$6.57
Product Description
What is Sodium Cocoyl Isethionate? It's a primary surfactant and it's an ingredient for hair and skin care products, which is plant based and derived from fatty acids of coco-betaine. INCI name Sodium Cocoyl Isethionate in skin care and hair care is known for its mildness to the skin and hair and provides dense and luxurious foam. It's an
anionic surfactant
with moisturizing and
anti-static
effects. What is Sodium Cocoyl Isethionate used for? Sodium Cocoyl Isethionate surfactants are commonly used as syndet, semi syndet and soap bar ingredients and can be applied as sole surfactant for most products in bar form – bar soaps, bar conditioners, bath bombs and other cleansing bars. It's also formulated in other personal care products such as hair conditioning, wet wipes, body washes and shower gels. It's hard water tolerant, easy to use and can be formulated in a wide variety of personal care products. IngreCore SCI 85-G is Sodium Cocoyl Isethionate in granule form. It's packed in 25 kg fiber drums and has a shelf life of 2 years. This product is also available as powder and called
IngreCore SCI 85-P
.
Packaging Description
Fiber drums of 25 KG. One full pallet is 18 drums (450 KG). One 20ft container is 20 pallets of 18 drums (9 MT).
Leadtime
Available for shipment within 2 weeks
Benefits
Good foam improver and stabilizer
Very mild and non-drying
Plant based
Outstanding (sole) surfactant for bar soaps and syndets
Easy to handle and formulate
Markets
SubMarket
Body Care, Hair Care, Oral Care, Skin Care
Market
Personal Care
Application & Function
Product Functions
Anionic Surfactant, Anti-static agent, Moisturizing
Applications
Body Washes, Hair Conditioners, Shampoos, Shower Gels, Soaps, Toothpaste, Wet wipes
Similar or equivalent to
Smartsurfa SCI 85; Hostapon SCI-85 G; Galsoft SCI G; Where to buy Sodium Cocoyl Isethionate? There is a wide variety of chemical manufacturers and traditional distributors offering this anionic surfactant. Online you find it on many websites, however only a few B2B web platforms offer a full B2C service model. Find and buy Sodium Cocoyl Isethionate online with IngreCore and make use of easy ordering, 24/7 service, transparent prices and comprehensive product information all under one roof.
Product Hazard information
CLP-GHS pictograms:
Transport Hazard Indication
Non Dangerous Goods
Transport Hazard Class
Not Applicable
Product information
INCI Name
Sodium Cocoyl Isethionate
Chemical Name
Fatty acids coco 2-sulfoethyl esters sodium salts
HS Code
3402.3990
CAS Number
61789-32-0
Product Form
Granules
Region of Origin
Asia Pacific
Reach
01-2119974104-40-0013
Product Group
Isethionates
Product Group Description
Carboxylic acids are produced from hydrolysis of vegetable oils such as castor oil, palm oil or coconut oil. Mixtures of carboxylic acids and salts of Isethionic acid (sodium or ammonium isethionate) with methane sulfonic acid are used to produce Isethionates, which are esters of carboxylic acids with isethionic acid, or it salts. Isethionates are often formulated with amphoteric surfactants to improve solubility and with fatty acid to reduce the freezing point. Widely used Isethionates are Sodium Lauroyl Isethionate and especially Sodium Cocoyl Isethionate, which is often produced in 80% or 85% concentration and in needle, granule or powder form.

Isethionates are a group of surfactants, which are extremely mild and have outstanding cleansing and foaming properties both in hard and soft water. Naturally derived vegetable raw materials, biodegradability, no CLP/GHS labelling, and good skin compatibility make Isethionates friendly anionic surfactants.

Isethionates are commonly used soap bar ingredients for cleansing bars. Also used in skin care, body care and hair care products such as shampoos, shower gels, wet wipes, shaving creams and hair conditioners. Due to its mildness, not a skin irritant, it is gentle to the skin barrier and suitable for sensitive skin and baby foam products.