Sarcosinate SL30 - Sodium Lauroyl Sarcosinate
Sodium Lauroyl Sarcosinate
Item #: 1200
Best available price $3.05/kg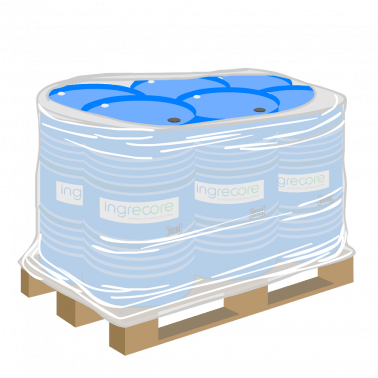 QTY in KG
FOB price per KG
Kilogram

800

$3.25

1,600

$3.20

4,000

$3.12

6,400

$3.11

10,400

$3.10

13,600

$3.09
Benefits Sarcosinate SL30 - Sodium Lauroyl Sarcosinate
Good in combination with disinfectants
7 times milder than SLES
Reduces irritation of other surfactants
Great soft skin and hair feel
Not impacted by salt or hard water
High foamability
Packaging Description
Drums of 200 KG. One full pallet is 4 drums (800 KG). One 20 ft container is 20 pallets (16 MT)
IBCs of 1000 KG. One 20 ft container of 20 IBC (20 MT).
Leadtime
Available for shipment within 2 weeks
Product information Sarcosinate SL30 - Sodium Lauroyl Sarcosinate
Description
Sarcosinate SL30 is one of the mildest
anionic surfactants
used in personal care and baby care products. It's an amino-acid surfactant in 30% solution and its INCI name is Sodium Lauroyl Sarcosinate. It produces high foam and in combination with other surfactants it aids in reducing irritation and enhancing foamability. Sarcosinate SL30 has good compatibility with disinfectants and can be formulated in soaps, body washes and cleansers containing disinfectants. Sodium Lauroyl Sarcosinate in shampoo is another common application. It has a shelf life of 2 years and should be shipped and stored below 40°C.
INCI Name
Sodium Lauroyl Sarcosinate
Chemical Name
Sodium (N-methyldodecanamido)acetate
Region of Origin
Asia Pacific
Reach
01-2119527780-39-XXXX
Product Group
Amino Acid-based Surfactants
Product Group Description
The consumer demand for greener, safer, and milder ingredients has changed many formulations in the last decades. In the ingredient group of surfactants, a clear shift away from products such as Sodium Lauryl Sulfate (SLS) and SLES to sulfate free surfactants is taking place. This is based on the perception that ether sulfates are potentially toxic or carcinogenic; especially Sodium Lauryl Sulfate has a bad reputation. An interesting and growing, sulfate-free, and extremely mild surfactant family is the group of amino acid-based surfactants. Amino acids are used as polar head group for surfactants and can be combined with fatty acids to produce a wide variety of amino acid-based surfactants, including amphoteric surfactants, cationic surfactants, nonionic surfactant, however mainly anionic surfactants.

Relevant for many industries, amino acid surfactants have the perfect characteristics for use in personal care and cleaning applications. This group of anionic surfactants has good biodegradability and biocompatibility and is known for its outstanding mildness and foaming properties. Their good foaming properties are normally not impacted by alkaline environment and therefore can be used in high pH applications. They have good cleansing properties and give hair and skin a long-lasting soft feeling. As a co-surfactant amino acid-based surfactants can help to reduce the irritating effects of other surfactants. The outstanding mildness make it perfect ingredients for baby care, sensitive skin, and facial care products. Generally suitable for body and hair care rinse off and cleansing agent products. Rinsing off most amino acid-based surfactants is very fast and easy compared to other surfactant systems and will contribute to reducing water consumption. The following groups of amino acid-based surfactants are often used in personal care and cleaning applications:
Markets, applications & functions Sarcosinate SL30 - Sodium Lauroyl Sarcosinate
Product Functions
Anionic Surfactant, Cleansing, Foaming agent, Softening
Similar or equivalent to
AMIN LS30, AMIN LS97, Crodasinic L; Amilite ACS-12; Miami SCA(S)
Applications
Body Lotions, Body Washes, Facial Masks, Skin Moisturizers, Mouth Washes, Shampoos, Shaving Cream, Shower Gels, Skin Exfoliators, Soaps, Toothpaste
SubMarket
Body Care, Hair Care, Oral Care, Skin Care
Product Hazard information
CLP-GHS pictograms

Transport Hazard Indication
Non Dangerous Goods
Transport Hazard Class
Not Applicable