Caprylyl Capryl Glucoside 70CE
Caprylyl/Capryl Glucoside
Item #: 1170
Best available price $2.07/kg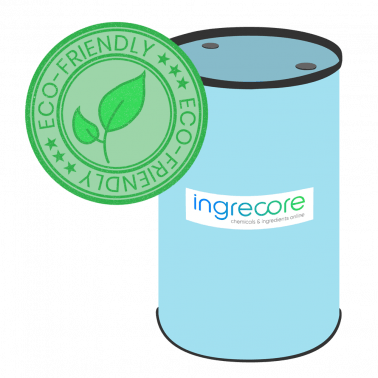 QTY in KG
FOB price per KG
Kilogram

220

$2.66

440

$2.46

660

$2.36
Benefits Caprylyl Capryl Glucoside 70CE
Natural raw materials, biodegradable
Numerous certifications COSMOS, RSPO MB, REACH, etc.
Great foaming performance and very mild
Good solubility in concentrated alkali solutions
Green ingredient for many personal care and cleaning applications.
Packaging Description
Plastic drums of 220 KG. One full pallet is 4 drums (880 KG). One 20ft container is 20 pallets (17.6 MT)
IBCs of 1100 KG. One 20ft container is 18 IBCs (19.8 MT)
Leadtime
Available for shipment within 2 weeks
Product information Caprylyl Capryl Glucoside 70CE
Description
What is Caprylyl Capryl Glucoside? It's a light yellow viscous liquid and a
non-ionic surfactant
belonging to the family of Alkyl Polyglucosides. The natural raw materials, plant starch and fatty alcohols, ensure that this ingredient is perfectly biodegradable. For Personal Care Products it helps to create rich foam with good stability and easy to rinse off, combined with very mild and irritation reducing properties. Caprylyl-Capryl Glucoside 70CE is a highly effective solubilizing agent for essential oils and suitable for foaming aromatherapy products. Caprylyl-Capryl Glucoside70CE, a 70% solution which is also available as 62%, 60% and
50% solution
, is generally used as secondary surfactant for dishwashing and
laundry detergent
and I&I cleaning. In addition, due to its caustic stability and solubility in alkali, salt and surfactant solution, it's a perfect ingredient for homecare and
institutional surface cleaners
.
INCI Name
Caprylyl/Capryl Glucoside
Chemical Name
D-glucoside, mixed octyl and decyl; C8-10 fatty alcohol glycoside
CAS Number
68515-73-1; 7732-18-5
Region of Origin
Asia Pacific
Reach
01-2119488530-36-xxxx
Product Group
Alkyl Polyglucosides
Product Group Description
Lauryl Glucoside, Coco Glucoside, Capryl Glucoside, Caprylyl Capryl Glucoside, Caprylyl-Decyl Glucoside, Hexyl Glucoside, Isooctyl Glucoside and Decyl Glucoside all belong to the family of Alkyl Polyglucosides (APG). The difference between these Glucosides lies in the length of the carbon-chain, the hydrophobic tail of the surfactant. Generally speaking, shorter tails (Hexyl (C6), Isooctyl (C8), Caprylyl-Capryl & Caprylyl-Decyl (C8-10)) quickly form a foam that is rich, but less stable, and therefore disappears more quickly. Longer tails, like
Lauryl Glucoside
(C12-14), take longer to form a foam, but it's a more dense and more stable foam, which contributes to a luxurious feeling. To get the best of both worlds, mixtures also exist. These mixtures, like
Coco Glucoside
or
Decyl Glucoside
(both C10-16) have quick forming foams like the short chain surfactants, while feeling more dense and more luxurious, like the long chain surfactants. Another thing to keep in mind is that the longer the chain, the more viscous the liquid. This makes some long chain APGs less suitable for certain applications.
In cosmetic ingredient review the alkyl glucoside product range is known as a gentle cleansing surfactant, and due to its mildness, it's suitable for baby care products and sensitive skin formulations. Typical applications are facial moisturizers, shampoos, body wash and many other body-care, skincare and haircare products. It's also widely used in home care and institutional and industrial cleaning applications. Also known for its eco friendliness amongst other qualities APGs are 100% plant derived from plant starch and fatty alcohol from coconut oil or palm kernel oil. The vegetable origin, biodegradability and renewable raw materials make it one of the most natural surfactants. Finally, Alkyl Polyglucosides have in common their superior foaming capacity, strong detergency, high concentration of electrolyte, excellent solubility, low surface tension, alkali resistance and good compatibility with other cosmetic ingredients and surfactants.
Markets, applications & functions Caprylyl Capryl Glucoside 70CE
Product Functions
Anti-irritant, Cleansing, Foaming agent, Non-ionic Surfactant
Similar or equivalent to
Libracare APG 0810-70; APG CH-0810 70; Lutensol GD70; Glucopon GD70; Capryl Glucoside; Caprylyl Capryl Glucoside; Caprylyl-Capryl Glucoside
Applications
Body Lotions, Body Washes, Cleaning sprays, Fabric conditioning, Fabric detergents, Facial Masks, Hair Conditioners, Institutional Surface Cleaners, Laundry detergent, Manual dish soap, Mascaras, Shampoos, Shaving Cream, Shower Gels, Skin/Sun Creams, Soaps, Surface cleaner, Vehicle & Boat Cleaning
SubMarket
Body Care, I&I Laundry Care, Hair Care, Home Dishwash Care, Home Fabric Care, Home Surface Care, Home Vehicle Care, I&I Surface Care, Skin Care
Market
Cleaning, Personal Care
Product Hazard information
CLP-GHS pictograms

Transport Hazard Indication
Non Dangerous Goods
Transport Hazard Class
Not Applicable